Telephone: 0568-25-3600
FAX: 0568-25-3602
Email: rekimin@city.kitanagoya.lg.jp
Opening Days: Wednesday - Sunday (Closed Mondays and Tuesdays)
Hours: From 9:00 am to 4:00 pm * Last admission of the day is 3:40pm.
Calendar: https://www.city.kitanagoya.lg.jp/rekimin/caren.html
Admission Fee: Free


The Showa Era Lifestyle Museum
〒481-8588
53 Osakaki, Kumanosho, Kitanagoya City,
Aichi Prefecture JAPAN
The Showa Era Lifestyle Museum is on the third floor of the Kitanagoya City Library.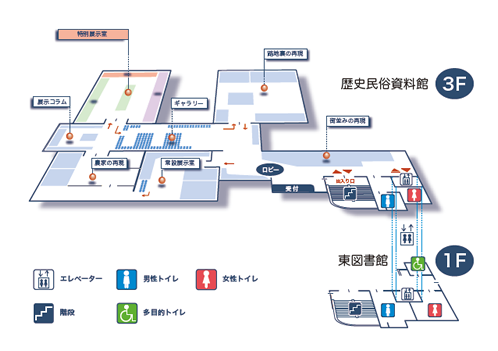 How long does it take to see the museum exhibits?
It takes about 30 minutes to visit, and with more than 10,000 items on display, some visitors take a little longer.
Is there a place to eat in the museum?
No food or drink is allowed in the museum.
Can you take pictures in the museum?
Generally, photography is allowed for personal use only. However, depending on the exhibition, photography may be prohibited. Also, if we see any behavior that would disturb other visitors, we will not allow you to take pictures. Please contact us for more information about photography for the purpose of publication.
I would like to go to the museum by car. Is there a parking lot?
There is an adjacent parking lot, which is free of charge. However, if you are coming by bus or other large vehicles, please contact us in advance.
Can I borrow a wheelchair in the museum?
Two wheelchairs are available. Please ask the receptionist if you wish to use one.
Recommended bus time table
Outward 【East exit of Nishiharu Station→City Hall East Building(Museum)】
1 Departure 10:05 → 10:26 Arrival
2 Departure 11:33 → 11:42 Arrival
3 Departure 14:28 → 14:47 Arrival
4 Departure 14:53 → 15:02 Arrival


Return trip 【City Hall East Building(Museum)→East exit of Nishiharu Station
1 Departure 11:32 → 11:53 Arrival
2 Departure 12:36 → 12:56 Arrival
3 Departure 15:51 → 16:11 Arrival
4 Departure 16:27 → 16:37 Arrival


 See "Kitabus" for more information.